Mother's Day Gifts For Moms Who Really Love Food.
A special lady deserves a special food. Mom will love these easy and elegant dishes.
1. Banana Pancakes:
Ingredients:
#1 cup all-purpose flour
#
Directions:
Combine flour, white sugar, baking powder and salt. In a separate bowl, mix together egg, milk, vegetable oil and bananas.
Stir flour mixture into banana mixture; batter will be slightly lumpy.
Heat a lightly oiled griddle or frying pan over medium high heat. Pour or scoop the batter onto the griddle, using approximately 1/4 cup for each pancake. Cook until pancakes are golden brown on both sides; serve hot.
2. Caprese Garlic Bread:
INGREDIENTS:
1 loaf ciabatta bread, horizontally cut in half
4 tablespoons salted butter
3 cloves garlic, minced
12 oz. fresh mozzarella cheese, sliced
1/2 cup balsamic vinegar
2 medium tomatoes, sliced
Salt and freshly ground black pepper, to taste
1/3 cup chopped fresh basil
DIRECTIONS:
Preheat oven to 400 degrees F. Place both sides of the baguette on a large baking sheet with the cut side up.
In a small bowl, combine butter and garlic and spread evenly on bread halves. Place the mozzarella cheese slices on top of the bread, making sure the cheese covers the bread completely. Bake the bread for 12-15 minutes or until the cheese is melted.
While the bread is in the oven, make the balsamic reduction. Place the balsamic vinegar in a small saucepan. Bring the vinegar to a boil, decrease the heat to low, and simmer, stirring occasionally, until the mixture is reduced by about half. This should only take about 5-7 minutes. Set aside.
Remove the bread from oven. Top the bread with tomato slices. Season with salt and pepper, to taste. Add the fresh basil and drizzle with balsamic reduction. Cut into slices and serve.
How to make it have a look here:
This garlic bread recipe has all of my favorite ingredients-bread, cheese, tomatoes, basil, and of course garlic and butter! We used Land O Lakes Butter in Half Sticks for this recipe. It is perfect because the recipe calls for four tablespoons, which is exactly one half stick! Perfect! No need to cut a stick of butter in half and have the other half get lost in the fridge.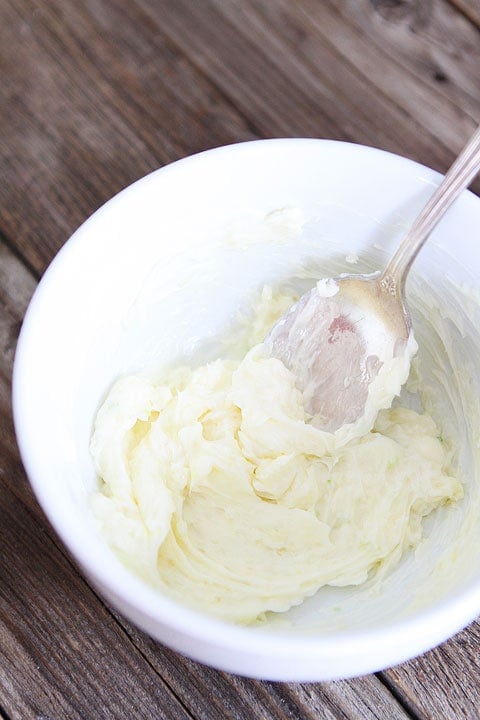 We mixed together softened butter and minced garlic. Oh, what a glorious combination!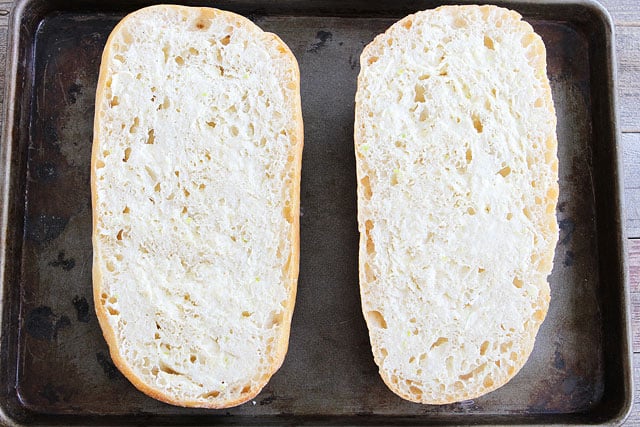 We spread the bread-hey, that rhymes, with the garlic butter.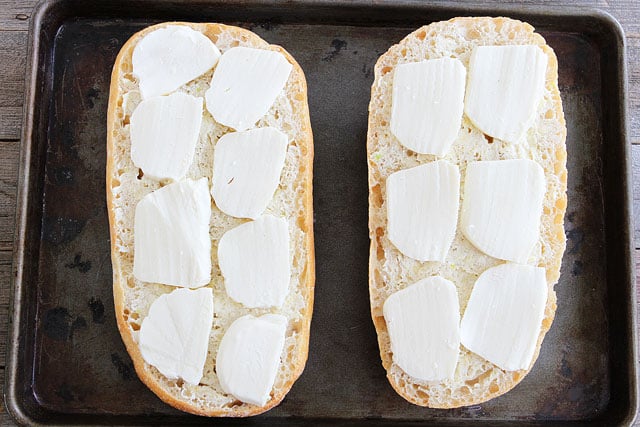 We added slices of fresh mozzarella cheese and popped the bread into the oven. We baked the bread for about 15 minutes, until the cheese was melted and starting to brown on the edges.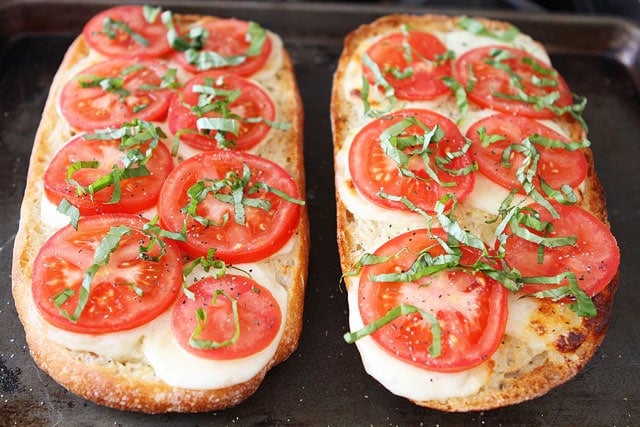 We topped the bread with tomato slices, seasoned them with salt and pepper, and sprinkled fresh basil over the tomatoes.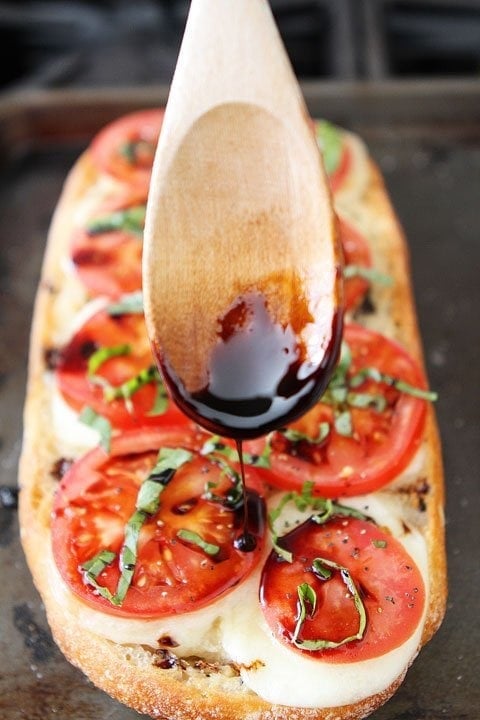 Next, we added a drizzle of balsamic. We reduced the balsamic vinegar to give it a thicker texture and sweeter flavor.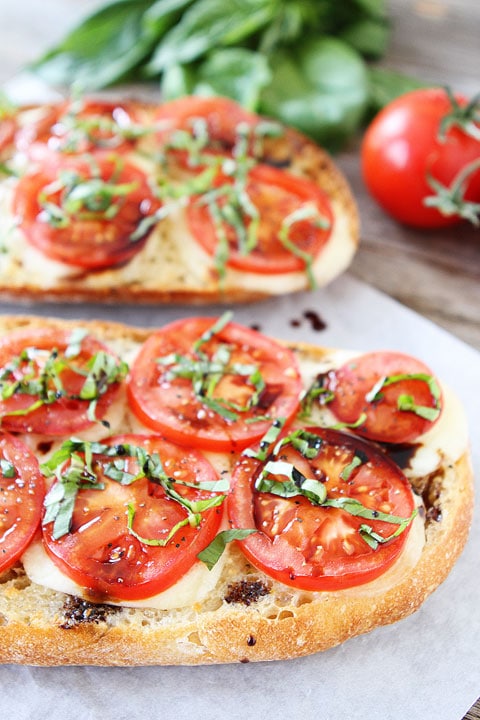 And voila-Caprese Garlic Bread! The best garlic bread ever!!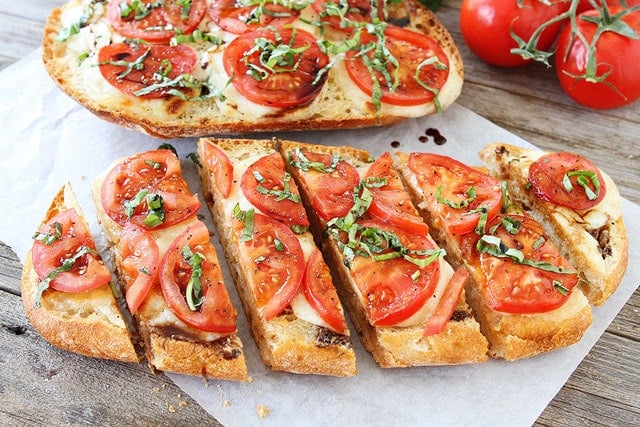 We cut the bread into thick slices and devoured the loaf. It's crusty, cheesy, garlicky, buttery, tomatoey, basily, and a tad bit vinegary. I think I just made up a bunch of words, but you're with me, right? It's super duper delicious!
If you are looking for an updated version of the classic garlic bread, make this Caprese Garlic Bread. It will change your life for the better. And it is perfect for summer! So fresh and tasty! We are going to be making this garlic bread all summer long. And don't be worried about garlic breath, just make sure the person you are smoochin' eats some too. I am sure you won't have to twist their arm:)